Silver Dust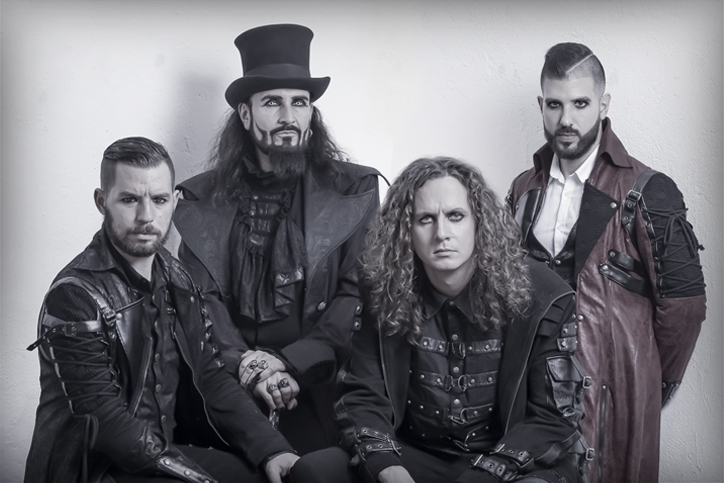 Line-Up
Lord Campbell -- Vocal, guitar
Magma -- Drums
Neyros -- Backing vocal, guitar
Kurghan -- Bass
Biography
SILVER DUST was formed in 2013 by the singer and guitarist Lord Campbell. In the same year, the band released its first album, Lost in Time.
In March 2016, SILVER DUST released their second album, The Age of Decadence, and unveiled a new show thought up to go along with the album using an atmosphere combining the good and the bad. In the same year, SILVER DUST hit the road for their first European tour together with the Finnish heavy metal band Lordi. In November 2017, the quartet returned on European stages as special guest of the Finnish heavy metal band Battle Beast. In April 2018, the band released its third opus, House 21. The album includes a collaboration with Mr. Lordi, from the eponym band, on a cover of Bette Davis Eyes. A few months later, the band went on another tour with Lordi. In late 2019, SILVER DUST embarked on a new European tour, the largest in the history of the band: 50 dates across 26 countries with two well-known metal bands: Moonspell and Rotting Christ.
April 2022 marks the release of the fourth album, "Lullabies", which is ranked 8th in the Metal-Rock-Charts in Germany. During this year, Silver Dust performs at several major festivals in Europe together with KISS, Avatar, Scorpions, Sabaton, Powerwolf, Helloween, Whitesnake, Europe and many others. The appearances of the band at Paléo Festival, at Rock Imperium Festival and at Riverside Aarburg Festival were highly noticed and appreciated.
Booking
Agency: ESCUDERO records
Phone: +41765066377
Email: salvo.vaucher@escudero-records.com
The artist
Nationality: Switzerland